Reggie figure puzzle on Jigidi
Firefox 36.0 has been released, and this version should resolve the problems with viewing the background image of this website that I mentioned previously.
Also, just a reminder that there is still time to register for the first Toy Bloggers United contest by leaving a comment on this post at The Toy Box (from the Internet Archive Wayback Machine). The contest closes Sunday, so get those comments in!
Finally, the puzzle of the last of the Dimensions for Children figures, Reginald Van Dough Jr., is up on Jigidi, enjoy!
Reginald Van Dough Jr. figure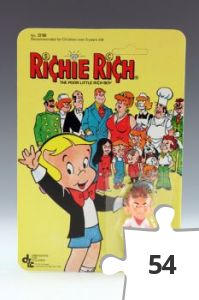 To see all of the Harvey Mercheum puzzles, use the "New Puzzle" post category on this website:
or visit the HMCurator creator page on Jigidi: